CTFR
---
CTFR is a tool that allows you to get all the subdomains from a HTTPS website. It is simple to use but is also very effective. I always use this tool when doing recon. It pulls up any subdomain that is worth scanning for vulnerabilities. It is very quick. Give it a test run. You will be happy you did.
Lets go ahead and get it installed. Installation is also very simple. In terminal issue these commands.
Install
git clone https://github.com/UnaPibaGeek/ctfr.git
cd ctfr
pip3 install -r requirements.txt
Usage
python3 ctfr.py -d facebook.com
Results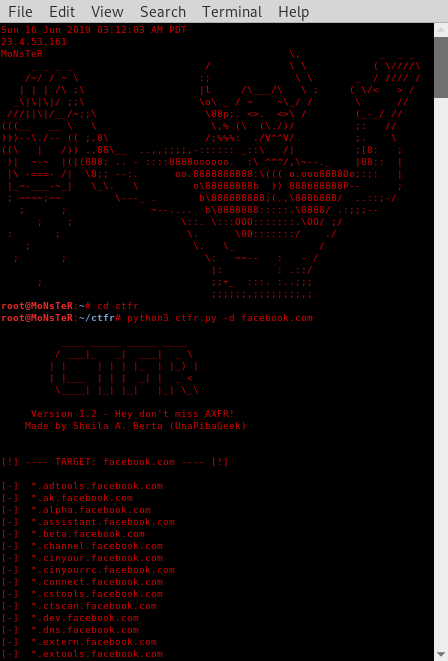 I have posted the full results so you can see the power of this tool.
[email protected]:~/ctfr# python3 ctfr.py -d facebook.com
      ____ _____ _____ ____  
     / ___|_   _|  ___|  _ \ 
    | |     | | | |_  | |_) |
    | |___  | | |  _| |  _ < 
     \____| |_| |_|   |_| \_\

 Version 1.2 - Hey don't miss AXFR!
Made by Sheila A. Berta (UnaPibaGeek)


[!] ---- TARGET: facebook.com ---- [!] 

[-]  *.adtools.facebook.com
[-]  *.ak.facebook.com
[-]  *.alpha.facebook.com
[-]  *.assistant.facebook.com
[-]  *.beta.facebook.com
[-]  *.channel.facebook.com
[-]  *.cinyour.facebook.com
[-]  *.cinyourrc.facebook.com
[-]  *.connect.facebook.com
[-]  *.cstools.facebook.com
[-]  *.ctscan.facebook.com
[-]  *.dev.facebook.com
[-]  *.dns.facebook.com
[-]  *.extern.facebook.com
[-]  *.extools.facebook.com
[-]  *.facebook.com
[-]  *.fb.alpha.facebook.com
[-]  *.fb.beta.facebook.com
[-]  *.fb.m.alpha.facebook.com
[-]  *.fb.m.beta.facebook.com
[-]  *.hr.facebook.com
[-]  *.intern.facebook.com
[-]  *.interninyour.facebook.com
[-]  *.internmc.facebook.com
[-]  *.inyour.facebook.com
[-]  *.inyourrc.facebook.com
[-]  *.lantern.facebook.com
[-]  *.latest.facebook.com
[-]  *.letools.facebook.com
[-]  *.lisp4.facebook.com
[-]  *.m.alpha.facebook.com
[-]  *.m.beta.facebook.com
[-]  *.m.facebook.com
[-]  *.m.intern.facebook.com
[-]  *.m.internmc.facebook.com
[-]  *.newdev.facebook.com
[-]  *.p.facebook.com
[-]  *.playpen0.facebook.com
[-]  *.playpen1.facebook.com
[-]  *.playpen10.facebook.com
[-]  *.playpen11.facebook.com
[-]  *.playpen12.facebook.com
[-]  *.playpen13.facebook.com
[-]  *.playpen14.facebook.com
[-]  *.playpen15.facebook.com
[-]  *.playpen16.facebook.com
[-]  *.playpen17.facebook.com
[-]  *.playpen18.facebook.com
[-]  *.playpen19.facebook.com
[-]  *.playpen2.facebook.com
[-]  *.playpen20.facebook.com
[-]  *.playpen21.facebook.com
[-]  *.playpen22.facebook.com
[-]  *.playpen23.facebook.com
[-]  *.playpen24.facebook.com
[-]  *.playpen25.facebook.com
[-]  *.playpen26.facebook.com
[-]  *.playpen27.facebook.com
[-]  *.playpen28.facebook.com
[-]  *.playpen29.facebook.com
[-]  *.playpen3.facebook.com
[-]  *.playpen30.facebook.com
[-]  *.playpen4.facebook.com
[-]  *.playpen5.facebook.com
[-]  *.playpen6.facebook.com
[-]  *.playpen7.facebook.com
[-]  *.playpen8.facebook.com
[-]  *.playpen9.facebook.com
[-]  *.prod.facebook.com
[-]  *.prod.scgraph.facebook.com
[-]  *.pubinyour.facebook.com
[-]  *.rampart.facebook.com
[-]  *.rampart001.facebook.com
[-]  *.rampart001.rampart.facebook.com
[-]  *.rampart002.facebook.com
[-]  *.rampart002.rampart.facebook.com
[-]  *.rampart003.facebook.com
[-]  *.rampart003.rampart.facebook.com
[-]  *.rampart004.facebook.com
[-]  *.rampart004.rampart.facebook.com
[-]  *.rampart005.facebook.com
[-]  *.rampart005.rampart.facebook.com
[-]  *.rampart006.facebook.com
[-]  *.rampart006.rampart.facebook.com
[-]  *.rampart007.facebook.com
[-]  *.rampart007.rampart.facebook.com
[-]  *.rampart008.facebook.com
[-]  *.rampart008.rampart.facebook.com
[-]  *.rampart009.facebook.com
[-]  *.rampart009.rampart.facebook.com
[-]  *.rampart010.facebook.com
[-]  *.rampart010.rampart.facebook.com
[-]  *.rampart011.facebook.com
[-]  *.rampart011.rampart.facebook.com
[-]  *.rampart012.facebook.com
[-]  *.rampart012.rampart.facebook.com
[-]  *.rampart013.facebook.com
[-]  *.rampart013.rampart.facebook.com
[-]  *.rampart014.facebook.com
[-]  *.rampart014.rampart.facebook.com
[-]  *.rampart015.facebook.com
[-]  *.rampart015.rampart.facebook.com
[-]  *.rampart016.facebook.com
[-]  *.rampart016.rampart.facebook.com
[-]  *.rampart017.facebook.com
[-]  *.rampart017.rampart.facebook.com
[-]  *.rampart018.facebook.com
[-]  *.rampart018.rampart.facebook.com
[-]  *.rampart019.facebook.com
[-]  *.rampart019.rampart.facebook.com
[-]  *.rampart020.facebook.com
[-]  *.rampart020.rampart.facebook.com
[-]  *.rampart021.facebook.com
[-]  *.rampart021.rampart.facebook.com
[-]  *.rampart022.facebook.com
[-]  *.rampart022.rampart.facebook.com
[-]  *.rampart023.facebook.com
[-]  *.rampart023.rampart.facebook.com
[-]  *.rampart024.facebook.com
[-]  *.rampart024.rampart.facebook.com
[-]  *.rampart025.facebook.com
[-]  *.rampart025.rampart.facebook.com
[-]  *.rampart026.facebook.com
[-]  *.rampart026.rampart.facebook.com
[-]  *.rampart027.facebook.com
[-]  *.rampart027.rampart.facebook.com
[-]  *.rampart028.facebook.com
[-]  *.rampart028.rampart.facebook.com
[-]  *.rampart029.facebook.com
[-]  *.rampart029.rampart.facebook.com
[-]  *.rampart030.facebook.com
[-]  *.rampart030.rampart.facebook.com
[-]  *.rampart031.facebook.com
[-]  *.rampart031.rampart.facebook.com
[-]  *.rampart032.facebook.com
[-]  *.rampart032.rampart.facebook.com
[-]  *.rampart033.facebook.com
[-]  *.rampart033.rampart.facebook.com
[-]  *.rampart034.facebook.com
[-]  *.rampart034.rampart.facebook.com
[-]  *.rampart035.facebook.com
[-]  *.rampart035.rampart.facebook.com
[-]  *.rampart036.facebook.com
[-]  *.rampart036.rampart.facebook.com
[-]  *.rampart037.facebook.com
[-]  *.rampart037.rampart.facebook.com
[-]  *.rampart038.facebook.com
[-]  *.rampart038.rampart.facebook.com
[-]  *.rampart039.facebook.com
[-]  *.rampart039.rampart.facebook.com
[-]  *.rampart040.facebook.com
[-]  *.rampart040.rampart.facebook.com
[-]  *.s-static.ak.facebook.com
[-]  *.scgraph.facebook.com
[-]  *.secure.alpha.facebook.com
[-]  *.secure.beta.facebook.com
[-]  *.secure.dev.facebook.com
[-]  *.secure.facebook.com
[-]  *.secure.intern.facebook.com
[-]  *.secure.interninyour.facebook.com
[-]  *.secure.internmc.facebook.com
[-]  *.secure.inyour.facebook.com
[-]  *.secure.latest.facebook.com
[-]  *.secure.prod.facebook.com
[-]  *.secure.trunkstable.facebook.com
[-]  *.sha256.facebook.com
[-]  *.shadow.facebook.com
[-]  *.shortwave.facebook.com
[-]  *.staging.scgraph.facebook.com
[-]  *.svcscm.rampart001.facebook.com
[-]  *.svcscm.rampart001.rampart.facebook.com
[-]  *.svcscm.rampart002.facebook.com
[-]  *.svcscm.rampart002.rampart.facebook.com
[-]  *.svcscm.rampart003.facebook.com
[-]  *.svcscm.rampart003.rampart.facebook.com
[-]  *.svcscm.rampart004.facebook.com
[-]  *.svcscm.rampart004.rampart.facebook.com
[-]  *.svcscm.rampart005.facebook.com
[-]  *.svcscm.rampart005.rampart.facebook.com
[-]  *.svcscm.rampart006.facebook.com
[-]  *.svcscm.rampart006.rampart.facebook.com
[-]  *.svcscm.rampart007.facebook.com
[-]  *.svcscm.rampart007.rampart.facebook.com
[-]  *.svcscm.rampart008.facebook.com
[-]  *.svcscm.rampart008.rampart.facebook.com
[-]  *.svcscm.rampart009.facebook.com
[-]  *.svcscm.rampart009.rampart.facebook.com
[-]  *.svcscm.rampart010.facebook.com
[-]  *.svcscm.rampart010.rampart.facebook.com
[-]  *.svcscm.rampart011.facebook.com
[-]  *.svcscm.rampart011.rampart.facebook.com
[-]  *.svcscm.rampart012.facebook.com
[-]  *.svcscm.rampart012.rampart.facebook.com
[-]  *.svcscm.rampart013.facebook.com
[-]  *.svcscm.rampart013.rampart.facebook.com
[-]  *.svcscm.rampart014.facebook.com
[-]  *.svcscm.rampart014.rampart.facebook.com
[-]  *.svcscm.rampart015.facebook.com
[-]  *.svcscm.rampart015.rampart.facebook.com
[-]  *.svcscm.rampart016.facebook.com
[-]  *.svcscm.rampart016.rampart.facebook.com
[-]  *.svcscm.rampart017.facebook.com
[-]  *.svcscm.rampart017.rampart.facebook.com
[-]  *.svcscm.rampart018.facebook.com
[-]  *.svcscm.rampart018.rampart.facebook.com
[-]  *.svcscm.rampart019.facebook.com
[-]  *.svcscm.rampart019.rampart.facebook.com
[-]  *.svcscm.rampart020.facebook.com
[-]  *.svcscm.rampart020.rampart.facebook.com
[-]  *.svcscm.rampart021.facebook.com
[-]  *.svcscm.rampart021.rampart.facebook.com
[-]  *.svcscm.rampart022.facebook.com
[-]  *.svcscm.rampart022.rampart.facebook.com
[-]  *.svcscm.rampart023.facebook.com
[-]  *.svcscm.rampart023.rampart.facebook.com
[-]  *.svcscm.rampart024.facebook.com
[-]  *.svcscm.rampart024.rampart.facebook.com
[-]  *.svcscm.rampart025.facebook.com
[-]  *.svcscm.rampart025.rampart.facebook.com
[-]  *.svcscm.rampart026.facebook.com
[-]  *.svcscm.rampart026.rampart.facebook.com
[-]  *.svcscm.rampart027.facebook.com
[-]  *.svcscm.rampart027.rampart.facebook.com
[-]  *.svcscm.rampart028.facebook.com
[-]  *.svcscm.rampart028.rampart.facebook.com
[-]  *.svcscm.rampart029.facebook.com
[-]  *.svcscm.rampart029.rampart.facebook.com
[-]  *.svcscm.rampart030.facebook.com
[-]  *.svcscm.rampart030.rampart.facebook.com
[-]  *.svcscm.rampart031.facebook.com
[-]  *.svcscm.rampart031.rampart.facebook.com
[-]  *.svcscm.rampart032.facebook.com
[-]  *.svcscm.rampart032.rampart.facebook.com
[-]  *.svcscm.rampart033.facebook.com
[-]  *.svcscm.rampart033.rampart.facebook.com
[-]  *.svcscm.rampart034.facebook.com
[-]  *.svcscm.rampart034.rampart.facebook.com
[-]  *.svcscm.rampart035.facebook.com
[-]  *.svcscm.rampart035.rampart.facebook.com
[-]  *.svcscm.rampart036.facebook.com
[-]  *.svcscm.rampart036.rampart.facebook.com
[-]  *.svcscm.rampart037.facebook.com
[-]  *.svcscm.rampart037.rampart.facebook.com
[-]  *.svcscm.rampart038.facebook.com
[-]  *.svcscm.rampart038.rampart.facebook.com
[-]  *.svcscm.rampart039.facebook.com
[-]  *.svcscm.rampart039.rampart.facebook.com
[-]  *.svcscm.rampart040.facebook.com
[-]  *.svcscm.rampart040.rampart.facebook.com
[-]  *.svcscm.rampart041.rampart.facebook.com
[-]  *.svcscm.rampart042.rampart.facebook.com
[-]  *.svcscm.rampart043.rampart.facebook.com
[-]  *.svcscm.rampart044.rampart.facebook.com
[-]  *.svcscm.rampart045.rampart.facebook.com
[-]  *.tls13.facebook.com
[-]  *.trunkstable.facebook.com
[-]  *.v6.facebook.com
[-]  *.v6intern.facebook.com
[-]  *.z.facebook.com
[-]  a.ok.facebook.com
[-]  adtools.facebook.com
[-]  ak.facebook.com
[-]  alpha.facebook.com
[-]  api.facebook.com
[-]  assistant.facebook.com
[-]  autodiscover.facebook.com
[-]  beta.facebook.com
[-]  bigzipfiles.facebook.com
[-]  channel.facebook.com
[-]  chat.facebook.com
[-]  cinyour.facebook.com
[-]  cinyourrc.facebook.com
[-]  circa.vip.facebook.com
[-]  circa.vvv.facebook.com
[-]  cisco-imc.iad3.facebook.com
[-]  clientsidetesticici.facebook.com
[-]  connect.facebook.com
[-]  cstools.facebook.com
[-]  ctscan.facebook.com
[-]  dev.facebook.com
[-]  dewey-lfs.vip.facebook.com
[-]  dewey.vip.facebook.com
[-]  extern.facebook.com
[-]  extools.facebook.com
[-]  facebook-amex-dev.facebook.com
[-]  facebook-amex-encryption.facebook.com
[-]  facebook-amex-sign-enc-dev.facebook.com
[-]  facebook-amex-sign.facebook.com
[-]  facebook-amex.facebook.com
[-]  facebook-icd-autopay.facebook.com
[-]  fb.alpha.facebook.com
[-]  fb.beta.facebook.com
[-]  fb.m.alpha.facebook.com
[-]  fb.m.beta.facebook.com
[-]  hr.facebook.com
[-]  hyper-boundary-gate.vip.facebook.com
[-]  hyper-boundary-gate.vvv.facebook.com
[-]  intern.facebook.com
[-]  interngraph.prod.scgraph.facebook.com
[-]  interngraph.scgraph.facebook.com
[-]  interngraph.staging.scgraph.facebook.com
[-]  interninyour.facebook.com
[-]  internmc.facebook.com
[-]  inyour.facebook.com
[-]  inyourrc.facebook.com
[-]  jenkins.presto.data.facebook.com
[-]  lantern.facebook.com
[-]  latest.facebook.com
[-]  letools.facebook.com
[-]  login.facebook.com
[-]  m.alpha.facebook.com
[-]  m.beta.facebook.com
[-]  m.facebook.com
[-]  m.intern.facebook.com
[-]  m.internmc.facebook.com
[-]  mail.facebook.com
[-]  mailapac.facebook.com
[-]  maileast.facebook.com
[-]  mailemea.facebook.com
[-]  msgin-regional.vvv.facebook.com
[-]  msgin.t.facebook.com
[-]  msgin.vvv.facebook.com
[-]  netdna01.iad3.facebook.com
[-]  netdna01.sjc1.facebook.com
[-]  newdev.facebook.com
[-]  outlook.facebook.com
[-]  p.facebook.com
[-]  playpen0.facebook.com
[-]  playpen1.facebook.com
[-]  playpen10.facebook.com
[-]  playpen11.facebook.com
[-]  playpen12.facebook.com
[-]  playpen13.facebook.com
[-]  playpen14.facebook.com
[-]  playpen15.facebook.com
[-]  playpen16.facebook.com
[-]  playpen17.facebook.com
[-]  playpen18.facebook.com
[-]  playpen19.facebook.com
[-]  playpen2.facebook.com
[-]  playpen20.facebook.com
[-]  playpen21.facebook.com
[-]  playpen22.facebook.com
[-]  playpen23.facebook.com
[-]  playpen24.facebook.com
[-]  playpen25.facebook.com
[-]  playpen26.facebook.com
[-]  playpen27.facebook.com
[-]  playpen28.facebook.com
[-]  playpen29.facebook.com
[-]  playpen3.facebook.com
[-]  playpen30.facebook.com
[-]  playpen4.facebook.com
[-]  playpen5.facebook.com
[-]  playpen6.facebook.com
[-]  playpen7.facebook.com
[-]  playpen8.facebook.com
[-]  playpen9.facebook.com
[-]  presto.vip.facebook.com
[-]  prod.facebook.com
[-]  prod.scgraph.facebook.com
[-]  proxygen-verifier.facebook.com
[-]  proxygen_verifier.facebook.com
[-]  push.delivery.facebook.com
[-]  rampart.facebook.com
[-]  rampart001.facebook.com
[-]  rampart001.rampart.facebook.com
[-]  rampart002.facebook.com
[-]  rampart002.rampart.facebook.com
[-]  rampart003.facebook.com
[-]  rampart003.rampart.facebook.com
[-]  rampart004.facebook.com
[-]  rampart004.rampart.facebook.com
[-]  rampart005.facebook.com
[-]  rampart005.rampart.facebook.com
[-]  rampart006.facebook.com
[-]  rampart006.rampart.facebook.com
[-]  rampart007.facebook.com
[-]  rampart007.rampart.facebook.com
[-]  rampart008.facebook.com
[-]  rampart008.rampart.facebook.com
[-]  rampart009.facebook.com
[-]  rampart009.rampart.facebook.com
[-]  rampart010.facebook.com
[-]  rampart010.rampart.facebook.com
[-]  rampart011.facebook.com
[-]  rampart011.rampart.facebook.com
[-]  rampart012.facebook.com
[-]  rampart012.rampart.facebook.com
[-]  rampart013.facebook.com
[-]  rampart013.rampart.facebook.com
[-]  rampart014.facebook.com
[-]  rampart014.rampart.facebook.com
[-]  rampart015.facebook.com
[-]  rampart015.rampart.facebook.com
[-]  rampart016.facebook.com
[-]  rampart016.rampart.facebook.com
[-]  rampart017.facebook.com
[-]  rampart017.rampart.facebook.com
[-]  rampart018.facebook.com
[-]  rampart018.rampart.facebook.com
[-]  rampart019.facebook.com
[-]  rampart019.rampart.facebook.com
[-]  rampart020.facebook.com
[-]  rampart020.rampart.facebook.com
[-]  rampart021.facebook.com
[-]  rampart021.rampart.facebook.com
[-]  rampart022.facebook.com
[-]  rampart022.rampart.facebook.com
[-]  rampart023.facebook.com
[-]  rampart023.rampart.facebook.com
[-]  rampart024.facebook.com
[-]  rampart024.rampart.facebook.com
[-]  rampart025.facebook.com
[-]  rampart025.rampart.facebook.com
[-]  rampart026.facebook.com
[-]  rampart026.rampart.facebook.com
[-]  rampart027.facebook.com
[-]  rampart027.rampart.facebook.com
[-]  rampart028.facebook.com
[-]  rampart028.rampart.facebook.com
[-]  rampart029.facebook.com
[-]  rampart029.rampart.facebook.com
[-]  rampart030.facebook.com
[-]  rampart030.rampart.facebook.com
[-]  rampart031.facebook.com
[-]  rampart031.rampart.facebook.com
[-]  rampart032.facebook.com
[-]  rampart032.rampart.facebook.com
[-]  rampart033.facebook.com
[-]  rampart033.rampart.facebook.com
[-]  rampart034.facebook.com
[-]  rampart034.rampart.facebook.com
[-]  rampart035.facebook.com
[-]  rampart035.rampart.facebook.com
[-]  rampart036.facebook.com
[-]  rampart036.rampart.facebook.com
[-]  rampart037.facebook.com
[-]  rampart037.rampart.facebook.com
[-]  rampart038.facebook.com
[-]  rampart038.rampart.facebook.com
[-]  rampart039.facebook.com
[-]  rampart039.rampart.facebook.com
[-]  rampart040.facebook.com
[-]  rampart040.rampart.facebook.com
[-]  register.facebook.com
[-]  s-static.ak.facebook.com
[-]  scgraph.facebook.com
[-]  secure.alpha.facebook.com
[-]  secure.beta.facebook.com
[-]  secure.dev.facebook.com
[-]  secure.facebook.com
[-]  secure.intern.facebook.com
[-]  secure.interninyour.facebook.com
[-]  secure.internmc.facebook.com
[-]  secure.inyour.facebook.com
[-]  secure.latest.facebook.com
[-]  secure.prod.facebook.com
[-]  secure.trunkstable.facebook.com
[-]  sha256.facebook.com
[-]  shadow.facebook.com
[-]  shortwave.facebook.com
[-]  sims.vvv.facebook.com
[-]  smtpin.vvv.facebook.com
[-]  staging.scgraph.facebook.com
[-]  svn.vip.facebook.com
[-]  symsrv.vip.facebook.com
[-]  tls13.facebook.com
[-]  trunkstable.facebook.com
[-]  v6.facebook.com
[-]  v6intern.facebook.com
[-]  www.cinyourrc.facebook.com
[-]  www.clientsidetesticici.facebook.com
[-]  www.dewey-lfs.vip.facebook.com
[-]  www.dewey.vip.facebook.com
[-]  www.facebook.com
[-]  www.jenkins.presto.data.facebook.com
[-]  www.presto.vip.facebook.com
[-]  www.proxygen-verifier.facebook.com
[-]  www.sims.vvv.facebook.com
[-]  www.svn.vip.facebook.com
[-]  www.symsrv.vip.facebook.com
[-]  www.yocto-mirror.vip.facebook.com
[-]  yocto-mirror.vip.facebook.com
[-]  z.facebook.com


[!]  Done. Have a nice day! ;).
[email protected]:~/ctfr#