Hey guys i am back after a long time. Hope you all are ding well in this quarantine period. Today i am going to write about Encrypted DNS and how can you set it up on your Mozilla Firefox browser. Note that the steps are same for Windows and Linux system. So let's get straight to it. For this write-up i am going to assume that you already know about DNS. If not then have a look here: https://www.cloudflare.com/learning/dns/what-is-dns/
So since DNS was created in 1987, it has been largely unencrypted. Everyone between your device and the resolver is able to snoop on or even modify your DNS queries and responses. This includes anyone in your local Wi-Fi network, your Internet Service Provider (ISP), and transit providers. This may affect your privacy by revealing the domain names that are you are visiting.
Just as the web moved from unencrypted HTTP to encrypted HTTPS, there are now upgrades to the DNS protocol that encrypt DNS itself. Encrypting the web has made it possible for private and secure communications. Encrypting DNS will further enhance user privacy.Also to bypass Google tracking. Note that there is a difference between anonymity and privacy. https://www.privateinternetaccess.com/blog/how-does-privacy-differ-from-anonymity-and-why-are-both-important/
[Off-topic]
Privacy is a concept describing activities that you keep entirely to yourself, or to a limited group of people Ex: Using VPN for private communications.
anonymity is when you want people to see what you do, just not that it's you doing. Ex: Hacktivism
First check for latest updates for your Firefox browser. I hope you know how to do that. [Click on the three dots located at the top right side of the browser >> Help >> About Firefox]
Latest version is Firefox 75.0
STEP1: Open Firefox browser and click on the three dots located at the top right side of your Firefox browser >> Options >> Network Settings >> (Scroll down to the bottom) Enable DNS over HTTPS.
STEP2: Now select Custom option in Use Provider.
STEP3 Now add dns9.quad9.net or 9.9.9.9 (Server IP) in Custom option and click OK.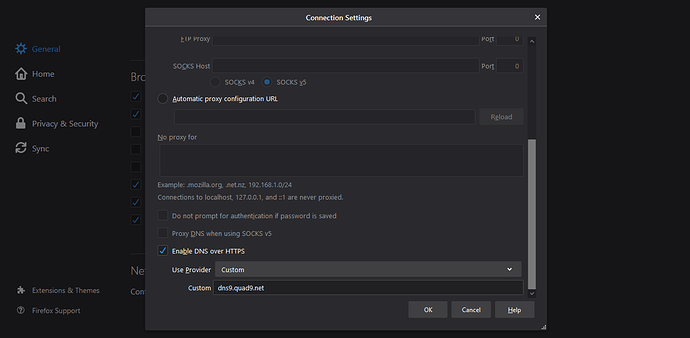 You are done setting up an encrypted DNS in Firefox. Easy as that.
Check here for more encrypted DNS:
https://www.privacytools.io/providers/dns/
News:
https://support.mozilla.org/en-US/kb/firefox-dns-over-https
Credits to MrGFY for this. Wouldn't have been possible without him.