If you think Ethical Hacking is only restricted to use of Desktops or Laptops for that matter, think again because if you have observed the way I did, third-party developers have been playing a huge role in filling gaps during each stage of Technological Evolution. In this guide we will learn about various Termux hacks, termux tutorials, termux wifi hack commands list, termux guide, termux tools, apk & packages & termux uses.
A similar Third Party developer called "Anonymous" has developed a Linux-self contained App called " Termux " which is used to install Linux based apps in Android and helps in running pure Linux apps in Android.
Now you will be wondering why do I need LINUX apps?
LINUX has a history of being a programmer-centric so the purpose of TERMUX app is to help Cyber Security professionals in monitoring systems and Cyber Security practices like Penetration Testing through Mobile Networks.
Compared to the millions of apps in Google Play Store, which in Mr. Peters words are considered "ports" of Linux applications which are made in an Android way, TERMUX is a pure LINUX app having a platform independent architecture making it portable and compatible with even Windows.
Before we continue, a simple line explanation on its UI: its UI is command line interface based.
Think MS-DOS and all those computers of yesteryears which came before Windows and MacOS and you will know what I am talking about. No shiny icons or instructions. Just you and your skills.
PS. I have combined the info available on various websites in one place in proper sequence to make the process less time-consuming.
Lets Begin
pkg upgrade && touch .hushlogin && pkg install python cmake nodejs ruby golang nmap hydra tsu ~ if you can not install tsu here then remove it and install it after adding the root repo.
THEN
pkg update && pkg upgrade -y && pkg install wget curl openssh git -y
after that
mkdir notes gh homework temp
Next is configuring the dotfiles
cd gh && git clone https://github.com/konradit/dotfiles.git && cp dotfiles/bashrc ~/.bashrc
Then
pkg install coreutils termux-api termux-exec termux-tools grep tree termux-widget termux-auth termux-boot play-audio libandroid-support vim ncurses-utils openssh gpg w3m && pkg upgrade
Then
termux-setup-storage – plz grant the permission when it pops up
THAT IS IT! now restart the app and things should look something like this: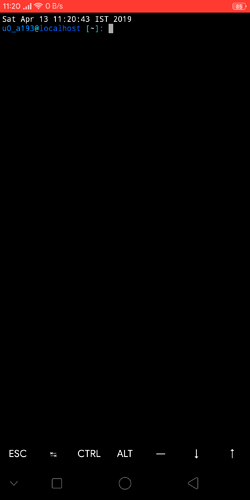 if you have root type:
tsu and allow access [DO NOT USE THE su COMMAND IT CAUSES A LOT OF PROBLEMS AND NEVER INSTALL OR UPDATE ANYTHING WHILE BEING ROOT!!]
After allowing root access it should look like this: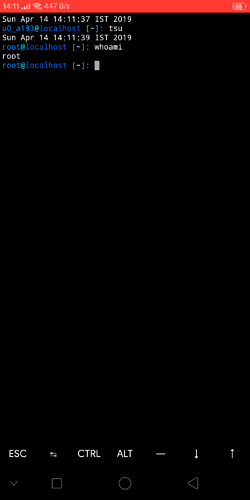 if you want sudo then run this: https://gitlab.com/st42/termux-sudo
if you want to install metasploit just type pkg install metasploit (DO NOT USE VARIOUS METASPLOIT INSTALLATION SCRIPTS AVAILABLE ONLINE UNLESS YOU OPENED THEM AND UNDERSTOOD WHAT THEY DO!!)
if you want to add root repos then :
pkg install root-repo termux-root-packages ~ Remove termux-root-package/s from this command if any errors are encountered.
These root repos will let you install the following :
tcpdump
…ETC
A great person had once said: "With great power comes great responsibility" . Maintaining peace in Society is our responsibility. That's why when you use apps like TERMUX do it for educational purposes and not for causing harm to anyone. Even before you think about committing such acts, spare a thought for your parents.
Happy Hacking!